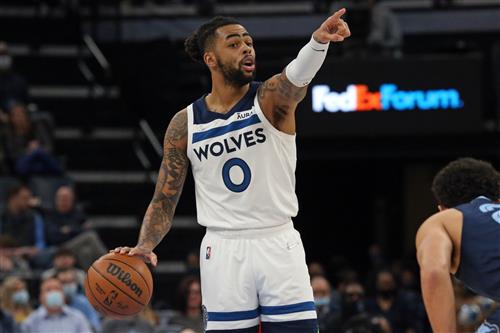 Sometimes, working with your friends isn't the best idea and the NBA is no exception. Karl-Anthony Towns and D'Angelo Russell have a well-documented friendship. In fact, it felt like a significant factor in leading the Minnesota Timberwolves to acquire Russell in the first place.
They can be besties for life, but on the court, they may be due for a permanent separation. Russell's performance in the 2021-22 playoffs was subpar. Now, it's heavily mentioned in NBA trade rumors that Minnesota is looking to move on from the former lottery pick. It makes sense.
The Wolves would be better off running their offense through Towns and Anthony Edwards. Russell is a gifted playmaker, but his ball dominance doesn't maximize either of the team's two best players.
Given the size of his contract, it's limiting for the Wolves. Minnesota wants to achieve big things in 2022-23, so getting bold may be required.
Surrounding Edwards and Towns with complementary players should be the goal for the Wolves this summer. It would almost surely require parting with Russell to make that happen in a substantial way.
One team that stands out as potentially being in need of a scoring threat in the backcourt is the Chicago Bulls. Zach LaVine is set to reach free agency this offseason and the guard options around DeMar DeRozan they deploy aren't necessarily built for scoring a high volume of points.
Here are three trade packages that land D'Angelo Russell on the Chicago Bulls.
Minnesota Timberwolves Receive: G Lonzo Ball, F Derrick Jones Jr.
Chicago Bulls Receive: G D'Angelo Russell, 2023 First-Round Pick (MIN)
Any assessment of a trade package the Chicago Bulls may want begins with Zach LaVine's unclear future with the team. If he's due for departure, this trade ought to suit the squad.