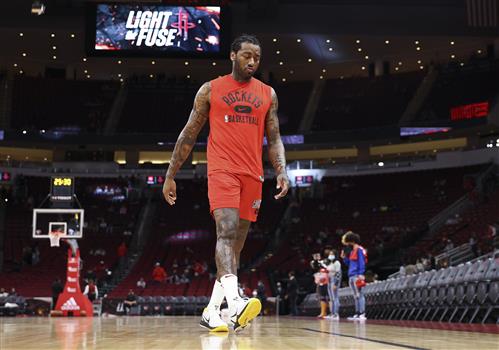 The Los Angeles Lakers are one of the most successful and renowned professional sports organizations in the world, but the 2021-22 NBA season may just be "rock-bottom" for them. 
LeBron James and Co. added the likes of Russell Westbrook, Carmelo Anthony, Dwight Howard, and other former All-Star-level talents, but this season has been a complete disaster for the Lakers and they are now on the verge of missing the playoffs as a whole after being picked by many to win the title this season. 
Between injuries to both LeBron James and Anthony Davis, plus injuries to other key players on this roster throughout the season, the Lakers have had trouble building chemistry on the floor with one another and they just simply lack the talent to be taken seriously as a real threat in this league. 
Now 37-years-old, LeBron James is still an elite-level player that will be named to the All-NBA list for the 18th time in his career, but he cannot carry this squad alone and now just 28-35 on the season with 19 games remaining, the Lakers are fighting desperately for a play-in tournament spot, which is a bit ironic given LeBron James' past criticism of the play-in tournament. 
With Anthony Davis being sidelined since mid-February with yet another injury, as well as the Lakers winning just two of their last eleven games, a once championship hopeful is in big trouble nearing the end of the year.
This season has been a complete "bust" for the Los Angeles Lakers and with the offseason not really presenting any means for them to get better because of their cap situation, it is time to start floating around the possibility of some major roster changes.
There have been plenty of rumors about the Lakers looking to flip "player x" for new star talent, but in reality, the Lakers really do not have many moves that they can make.
Trapped to the contracts on their roster, Los Angeles is going to have a really tough time in trade negotiations this offseason unless there is a team out there that is willing to grant them their wish. 
No matter what GM Rob Pelinka and the Lakers' front-office think they have planned for the offseason, they must consider one of these three ideas to help try and turn things around. 
Swap Russell Westbrook And Talen Horton-Tucker For John Wall And Eric Gordon
Ahead of the NBA trade deadline, the Los Angeles Lakers did explore trade opportunities for Russell Westbrook and one of the only teams that was willing to listen were the Houston Rockets.