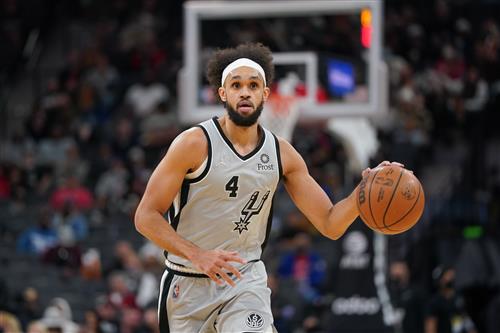 The San Antonio Spurs have a lot of difficult decisions to make, one being whether to trade either Derrick White or Dejounte Murray? In the scenario they choose to move the former, they should have a handful of trade suitors.
White is more of a combo guard than a true point guard or shooting guard. He's a jolt scorer who has been a consistent source of offense for the Spurs while facilitating, hitting the boards and defending at a respectable rate. The 27-year-old White can help reshape an NBA offense.
Here are three ideal trade destinations for Derrick White.
3. Derrick White retools the Atlanta Hawks
Hawks get: Derrick White and Devin Vassell
Spurs get: John Collins
The Hawks have a deeply talented team, but they still haven't turned the corner on what has been a disappointing season. Last month, they traded Cam Reddish to the New York Knicksfor Kevin Knox and a first-rounder. This time around, they make a trade to retool their roster in the form of sending Collins to the Spurs for White and Vassell.
This trade gives the Hawks more youthful — and less expensive — depth. White would play the off-guard adjacent to Trae Young. The former is a versatile player. While someone who puts the ball on the floor, White is capable of being a ball-handler/floor general in the halfcourt, too. He can play a high-minute role as either the Hawks' starting shooting guard or sixth man.
When Young is off the floor, White can be head coach Nate McMillan's point guard. Meanwhile, Vassell is a compelling second-year player. The Florida State product is a shooting scorer who holds his own on the other end of the floor. Vassell essentially replaces Reddish from a skill set perspective.