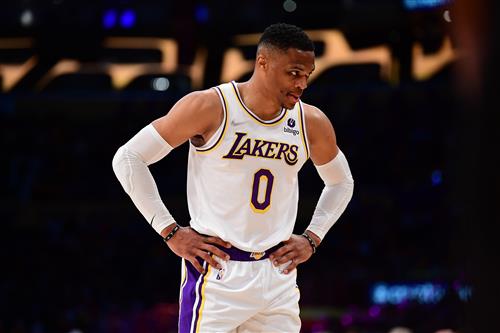 The Los Angeles Lakers were viewed by some as the favorite to win the NBA title this season, but they've already been officially eliminated from contention for a play-in spot in the Western Conference.
LeBron James is scoring 30.3 points per game but that has not translated to team success. Anthony Davis has played in just 39 games and of course, we have all seen the debacle that is Russell Westbrook.
The offseason trade that was considered a blockbuster has not worked since the early days of the season. It was clear that the Lakers have not meshed and the nosedive has been steady.
The only thing that can be said about Westbrook is that he remains durable. He has played in and started 78 games for the Lakers this season. Westbrook is contributing 18.5 points, 7.4 rebounds, and 7.1 assists per game.
Over the course of his career, Westbrook has been able to fill up a stat sheet. On the other hand, he struggles with turnovers and efficiency. Westbrook is averaging 3.8 turnovers per game while shooting 44.4% from the field, including 29.4% from three-point range.
It turns out that the package that Los Angeles sent the Washington Wizards in return for Westbrook was important. Both Kyle Kuzma and Kentavious Caldwell-Pope added depth and production, especially on the defensive end of the floor.
Westbrook was back in NBA trade rumors around the deadline but the Lakers wanted to hang onto him for the rest of the season. If the Lakers miss the playoffs with this roster after all of the offseason hype, it will be hard for the front office not to blow it up.
If this happens, Russell Westbrook is the likely candidate to be moved. Here are three teams that could surprise the league and take a chance on the former MVP.
New York Knicks
Would this be smart for the New York Knicks? Could Russell Westbrook play in New York?