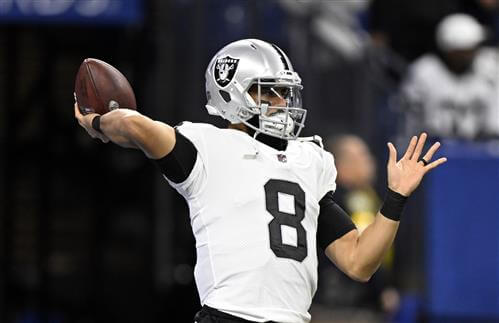 The Indianapolis Colts will once again trot out a new face at quarterback in 2022, having offloaded Carson Wentz in a trade with the Washington Commanders on Wednesday. The Colts will now look to replace the veteran under center, and will have a plethora of cap space to work with in order to do so. There will be a number of quarterbacks available via free agency or trade this offseason, even after Aaron Rodgers and Russell Wilson were taken off the market. What remains to be seen is just how the Colts plan to fill Wentz's vacancy, whether it be via the draft, or looking to bring in an established veteran.
Both options could prove fruitful for a team that feels like it's a leader at quarterback away from being Super Bowl contenders. While this year's crop of quarterbacks in the NFL Draft isn't particularly strong, that could play into Indianapolis' favor, as they lack a first-round pick. There's a chance one of the better arms in the draft will still be available for them in the second round.
With all that in mind, here are the three best options for the Colts at quarterback after the Carson Wentz deal, including a trade, free-agent signing, and a rookie QB.
3 best QBs for Colts after trading Carson Wentz to Commanders
3. Carson Strong 
The likes of Malik Willis, Kenny Pickett, and possibly even Desmond Ridder are almost certainly going to be off the board before the Colts pick at No. 47 overall, but that shouldn't dissuade the team from selecting a quarterback with their second-round pick. Carson Strong could be an ideal fit for the Colts, who would replace one Carson with another. The University of Nevada product didn't face the toughest competition in college, but he has impressed in the pre-draft process and boasts impressive arm talent.
The Colts had been linked with the Nevada star prior to offloading Wentz, so now that the deal is done, the links to Strong should only grow stronger. His injury history could cause some concern for the Colts, but considering they'll have as much as $70 million to work with in free agency, they could always roll the dice on Strong and sign a QB as well.