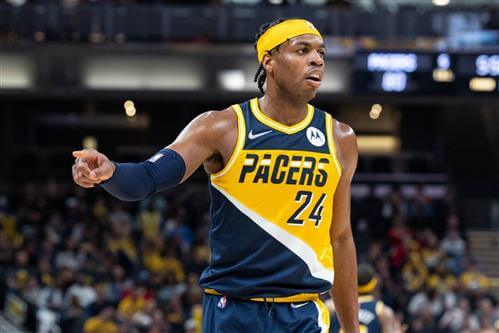 This article shouldn't even be getting written. The Los Angeles Lakers were that close to trading for Buddy Hield last NBA offseason.
So close that major media sources widely reported that the transaction was complete. Hield was, as far as we knew, a Laker. Then, a meteorite landed on the Lakers' surface. That meteorite is known as Russell Westbrook.
Apparently, the Lakers brass thought he'd be a more impactful addition. In terms of pure star power, he certainly has the edge over Hield.
However, it was hard not to envision the fit between the sharpshooting Hield and LeBron James. So hard, in fact, that we're still picturing it.
Landing Hield won't be easy for the purple-and-gold. It would have been easier last offseason. The team is cap-strapped, veteran-heavy, and short on draft picks. Adding anything of value to the dynamic duo of James and Anthony Davis will prove a challenge.
It sounds like a job for NBAAnalysis.net.
Indiana Pacers Receive: F Talen Horton-Tucker, G Kendrick Nunn, F Stanley Johnson
Los Angeles Lakers Receive: G Buddy Hield
For the Indiana Pacers to agree to this deal, they'll have to be committed to a rebuild. The spacing they'll lose in swapping Hield for the younger Talen Horton-Tucker will not likely result in an increased win total.