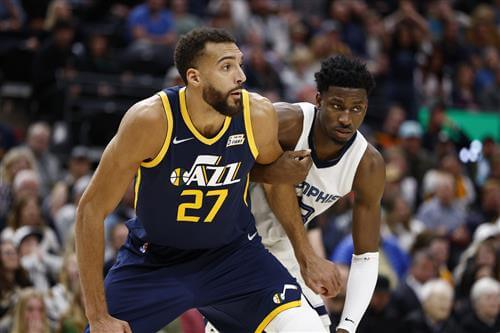 Some things may be great for a moment in the NBA, but not necessarily built to last. The relationship between Donovan Mitchell and Rudy Gobert is beginning to look like a knock-off product.
The Jazz has fallen short of expectations this season. They entered 2021-22 hoping to contend for an NBA championship. Now, there's a possibility they'll have to participate in the play-in tournament.
If Jazz fans were to complain to supporters of the Portland Trail Blazers, their voices would fall on deaf ears. The Blazers hoped to be competitive this season as well, and the play-in is out of their reach. They'll have a draft pick in the lottery this season.
By all accounts, they're likely to leverage that pick into some win-now help. This is looking like a gap year for the Blazers. Franchise cornerstone Damian Lillard appears to be staying put. As long as that's the case, the Blazers need to surround him with veterans who are ready to compete.
Veterans like the best rim protector in basketball. If the Utah Jazz falls short of expectations this season, they may host a firesale that rocks the foundation of the league. If Rudy Gobert is available, here are 2 trade packages that land him in Portland.
Utah Jazz Receive: G Eric Bledsoe, G/F Josh Hart, 2022 First-Round Pick (POR)
Portland Trail Blazers Receive: C Rudy Gobert
If this package looks underwhelming to you from Utah's perspective, you're getting where that 2022 first-round pick is likely to convey.