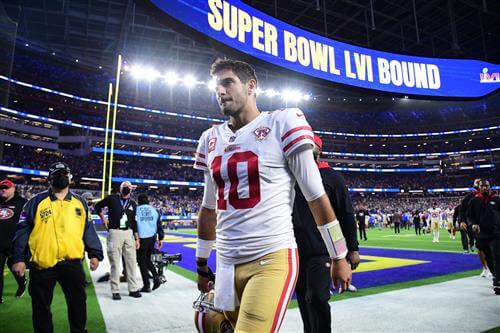 Jimmy Garoppolo came within one win of making his second Super Bowl start in three seasons as the 49ers' starting quarterback, falling to the Rams in the NFC Championship on Sunday night. With rookie Trey Lance waiting in the wings, however, and the 30-year-old Garoppolo due more than $25 million in 2022, the veteran signal-caller acknowledged reality in the wake of San Francisco's loss: he's probably played his last game with the 49ers.
Who knows what Lance will actually bring to the table, offering more athleticism but less proven NFL passing? But after an injury-riddled and mostly passable performance as the 2021 starter, Garoppolo will almost surely be traded or released this offseason, saving the 49ers virtually his entire 2022 salary in the process. As a whole, he's probably reached his ceiling as a starting QB: good enough to make a legitimate run, but not necessarily to win it all (a common issue around the league, if you haven't noticed). But that's more than some teams currently have at QB, so he figures to have a decent market.
Where, exactly, could Garoppolo end up? Here are logical landing spots:
Unlikely but possible
Colts: Owner Jim Irsay is rightfully unsatisfied at QB, where Carson Wentz was just OK in his Indy debut. Wentz is very expendable — the Colts could save between $13 million and $28 million by cutting or trading him — but it's doubtful coach Frank Reich would want to change starters if the alternative is Garoppolo, who is efficient but hardly a clear upgrade.
Giants: New GM Joe Schoen was surprisingly resolute in his commitment to build around Daniel Jones in 2022, but if new coach Brian Daboll preferred veteran competition/insurance, the latter is familiar with Jimmy G, working for the Patriots during the QB's time in New England. QBs coach Jerry Schuplinski was also part of Garoppolo's position coaching with the Pats.
Packers: Obviously this only applies if Aaron Rodgers retires or heads elsewhere. But it makes sense if Green Bay is desperate post-Rodgers and isn't ready to fully hand the reins to Jordan Love. Coach Matt LaFleur prefers an efficient, run-heavy offense and is friends with Kyle Shanahan, who's long vouched for Jimmy G. His roster is still built to compete now, too.
Panthers: They're so desperate for a QB they could easily go into the "favorites" section, but would David Tepper really sign off on another mid-tier veteran swing after Matt Rhule burned through Teddy Bridgewater, Sam Darnold and Cam Newton? It should be go big or go home here, either through the draft or via trade.
Raiders: New coach Josh McDaniels has little reason to replace Derek Carr with Garoppolo, but if for some reason a trade manifests itself and he needs a stopgap for a more comprehensive roster overhaul, he at least has experience working with Jimmy G, from their time together in New England.