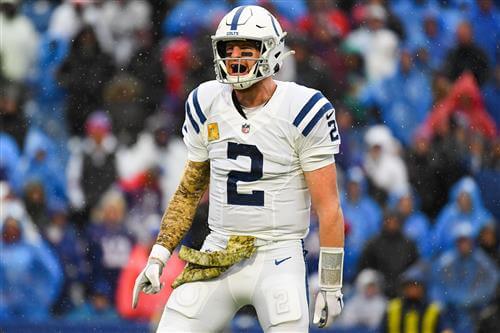 If Carson Wentz is going to play quarterback for Indianapolis in 2022, the Colts don't know it yet. A year after trading a first- and third-round pick to acquire the ex-Eagles signal-caller, team brass is reportedly undecided on whether to retain Wentz for a second season — in large part because of owner Jim Irsay's frustration with the way 2021 ended. The salary cap won't stop them from making a move, either, as the Colts would save significant money by either trading or releasing the QB this offseason.
The question at the heart of the conversation is, what are their alternatives? As CBS Sports NFL insider Jason La Canfora noted Wednesday, even if the Colts prefer to upgrade, big names like Aaron Rodgers and Russell Wilson are unlikely to be had. But if they convince themselves another veteran — like Derek Carr or Kirk Cousins or Jimmy Garoppolo — is worth pursuing, Wentz's own market could expand. Any acquiring team (via trade) would be on the hook for Wentz's $28 million cap hit, but the QB's deal includes no guaranteed money beyond 2022, meaning he could be cut at no cost.
Where, exactly, could Wentz end up, if it's not back in Indy? Here are some potential suitors:
Unlikely but possible
Giants: New management has spoken highly of Daniel Jones, and the cap situation isn't ideal. But if coach Brian Daboll is interested in competition without a total reset, he had a similarly skilled (albeit better) QB in Josh Allen with the Bills. New assistant general manager Brandon Brown worked for the Eagles during Wentz's peak, as did assistant Mike Groh. Plus, they'd allow the Colts to ship him back to the NFC, where the Giants have seen his best stuff firsthand.
Panthers: You can't put any move past a team with this much QB desperation, but after so many failed swings at mercurial options (Sam Darnold, Cam Newton, etc.), they feel much more likely to address the position through the draft. 
Raiders: This only applies in the scenario where the Colts zero in on Derek Carr as their preferred upgrade. New coach Josh McDaniels might rather take a swing on Wentz and re-evaluate everything in 2023 than commit long-term, at a steep price, to a guy he's yet to coach. McDaniels, remember, interviewed for the Eagles' job in 2021 knowing Wentz may have been his QB.