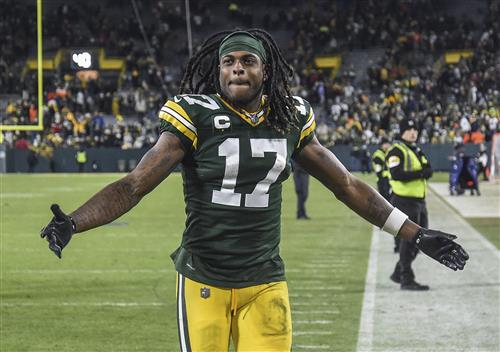 Although the NFL playoffs have yet to begin, the offseason is already underway for most NFL franchises.
That makes this an ideal time to look at the impending free-agent class and the impact it could have on the 2022 campaign.
With plenty of notable names set to hit the open market this spring, there will be news about big-money deals being signed before you know it.
Not all of these contracts will be sensible, however.
Every year, teams find ways to overpay for unnecessary additions to their rosters or bring aboard bad fits for their schemes.
It's inevitable that franchises will bungle some of their signings when free agency begins March 16. With that in mind, here's a look at one player each organization should avoid on the open market.    
Arizona Cardinals: Edge Von Miller
The Arizona Cardinals were one of the surprise teams of 2021, rising to contention despite dealing with numerous injuries on both sides of the ball.
The team should remember the attrition it suffered and try to maximize value by adding depth at positions of need. Splurging for an expensive, aging pass-rusher like Von Miller would be wasteful.
While Miller has been wreaking havoc for the division rival Los Angeles Rams since being traded to the NFC West squad in November, he's on the wrong side of 30 and isn't a fit for a club that already employs similar talent.
The team already played with a pair of aging stars on the edge in J.J. Watt (32) and Chandler Jones (31).
While Jones was effective in the final year of his contract—notching 10.5 sacks in 15 games—Watt struggled to stay on the field in his first season with the Cardinals. The injury-prone pass-rusher still effectively has another year left on his deal and can hopefully help the team more reliably in 2022.
Miller is also likely to cost a pretty penny on his next contract.
The Rams would be foolish not to make a run at retaining Miller after giving up a pair of picks to acquire him, even though they could end up paying somewhere just shy of $20 million per season to get a deal done.
Considering that Miller missed the 2020 season and time this year with ankle injuries, it's a good bet the future Hall of Famer won't make it through his next contract unscathed. Arizona should feel comfortable passing on Miller and letting the Rams absorb that cost.
If the Cardinals want to splurge on a proven edge-rusher, they should simply come to terms on a new deal with Jones, a player they are familiar with and a proven fit in the defensive scheme.  
Atlanta Falcons: WR Odell Beckham Jr.
The Atlanta Falcons are going into the 2022 offseason with a potentially massive need at the wideout position.
The receiving corps was already thin going into the 2021 campaign after the team traded Julio Jones, but it suffered from a lack of depth once Calvin Ridley stepped away in October to focus on his mental well-being.
Even if Ridley returns to the fold—which is far from guaranteed, with rumors circulating that the organization and wideout could be looking for a "fresh start"—the Falcons must find more talent at the position.
While there could be some big names on the open market—such as Davante Adams, Chris Godwin, Mike Williams and Allen Robinson—the Falcons should stay away from Odell Beckham Jr.
The mercurial wideout hasn't had a productive season since 2019, his first year with the Cleveland Browns after being traded by the Giants. He dealt with injuries and poor chemistry with Baker Mayfield before forcing his way out at the November trade deadline.
Beckham, now 29 years old, isn't the type of player a rebuilding Atlanta squad will want in the locker room as it looks to return to contending status after a four-year playoff drought.
The Falcons should instead turn their attention to younger wideouts with upside, players they can grow along with promising pieces such as tight end Kyle Pitts.   
Baltimore Ravens: WR Allen Robinson II
The Baltimore Ravens haven't been that successful in their search for quality wideouts over the last few years. They would be wise to avoid shelling out big money for a player coming off his worst season as a pro.
Allen Robinson played the 2020 campaign on a pricey franchise tag in Chicago but produced like a replacement-tier wideout.  
The 28-year-old only hauled in 38 catches for 410 yards and one touchdown over 12 games, a massive disappointment following back-to-back 1,000-yard plus seasons.
Robinson's lack of chemistry with rookie wideout Justin Fields was concerning. The wideout didn't seem to fit in Chicago's offense with the mobile signal-caller at the helm either, which is a major reason why Baltimore shouldn't consider the eight-year veteran.
The Ravens have utilized one of the NFL's most run-heavy schemes since Lamar Jackson became the starting quarterback.
The team passed on a league-low 44.96 percent of offensive plays in 2020, and even with one of the most banged-up running back corps in football, dialed up throws on just 56.37 percent of its snaps in 2021.
Robinson has a chance to rehabilitate his career in 2022, but Baltimore isn't the club that can maximize his talents.        
Buffalo Bills: RB Leonard Fournette
The Buffalo Bills brass may be getting impatient with the slow development of the team's running backs and could throw some money at the position in free agency.
If it does sign a veteran on the open market, the team should think heavily before doling out a big contract to Leonard Fournette, arguably the top player at the position set to hit free agency in 2022.
Fournette managed to successfully turn his career around in 2020, catching on with the Buccaneers after his release from the Jaguars and becoming an instrumental part of the club's Super Bowl run.
While teams were leery about paying the back when he became a free agent last spring, they may be more willing to cut a big check after he returned to Tampa and put up 812 yards and eight touchdowns on 180 totes.
While Fournette does offer value as a hard-running back with elite ball security, he's traditionally been a one-dimensional player who isn't a great asset as a receiver.
He did show growth in the area this past season (ranking fourth amongst RBs with 454 receiving yards), but that was largely a result of his situation within Tampa's backfield. 
He'd be better utilized in a platoon that features a high-end pass-catching back, something the Bills lack at this time.
Devin Singletary and Zack Moss combined for 63 catches and 425 receiving yards this year, numbers that don't inspire confidence for either to be a quality third-down back if paired with Fournette.
The Bills could use some of the money that Fournette would cost to ink a player like Chase Edmonds, a dangerous playmaker out of the backfield who would add a new dimension to the offense.    
Carolina Panthers: QB Jameis Winston
Their quarterback situation is a mess right now, but the Carolina Panthers could make things worse by signing one of the veterans who will be available this spring.
The team already has Sam Darnold under contract in 2022 after picking up his fifth-year option valued at $18.9 million. General manager Scott Fitterer recently confirmed that the signal-caller—who cost the team three draft picks to acquire last year—will be back in the fold.
The team may be saying it wants to develop Darnold, but its actions—which include bringing in Cam Newton for a second stint with the club and possibly giving him a chance to earn the starting job in 2022—indicate otherwise.
The Panthers would be wise to avoid muddying the waters by bringing in a quarterback like Jameis Winston.
While the club desperately needs a franchise signal-caller to compete in the NFC South, bringing in a polarizing veteran who's coming off a season-ending ACL tear isn't the right path forward.
Carolina should instead focus on the draft, where it holds the No. 6 pick, to unearth a viable long-term option under center.
In the meantime, Darnold should get one final shot at proving he belongs in the league without a veteran backup breathing down his neck. 
Chicago Bears: WR Davante Adams
The Chicago Bears have more question marks up-and-down their roster than most teams going into the offseason. They also need to find a new head coach and GM after cleaning house Monday.
It would be best for the organization to stay away from dishing out any big-money deals to the top-end wideouts given how far it is from contending.
Chicago finished 6-11 in 2021 and will be without a first-round pick in 2022 after flipping it to the New York Giants when it moved up the board to take Justin Fields at No. 11 last year.
Even if the Bears managed to somehow win what will be a fierce competition to acquire a game-changing receiver like Davante Adams, the signing in itself won't get them back to contending status.
Instead of splurging on a wideout, they should focus on the offensive line to help Fields next season.
The Ohio State product had a dismal rookie year, getting sacked 36 times and throwing just seven touchdowns to 10 interceptions in 12 games. Because of that, protection should be the No. 1 priority in the Windy City this spring.    
Cincinnati Bengals: G Brandon Scherff
The Cincinnati Bengals eschewed the chance to address arguably their biggest need going into the 2021 draft, taking wide receiver Ja'Marr Chase with the No. 5 pick instead of focusing on the offensive line.
While the decision looks to be the right one, Cincinnati will want to beef up Joe Burrow's protection during the 2022 offseason after his 2020 rookie year was cut short by an ACL injury. And no quarterback was brought down more often in 2021, with Burrow taking 51 sacks.
If Burrow continues to get battered at this rate, he may not have many more healthy seasons for fans to look forward to.
While the Bengals could look to plug the holes along the interior of their O-line with a pricey free agent, they should have a choice of high-end guards in the first round.
Brandon Scherff is likely to be one of the more expensive interior linemen on the open market, but his injury woes are concerning.
With the 30-year-old missing at least two games in each of the last five seasons—most recently suffering an MCL sprain that kept him sidelined this year—the Bengals should save money and get a more reliably available rookie to shore up the offensive trenches.    
Cleveland Browns: WR JuJu Smith-Schuster
The Cleveland Browns are going into the offseason in dire need of pass-catchers.
The lack of talent surrounding quarterback Baker Mayfield didn't help during a disappointing 8-9 season, especially with Jarvis Landry banged up for much of the year and Odell Beckham Jr. getting cut after the trade deadline.
Cleveland will want to reload the receiver room in free agency, bringing in at least one proven veteran who can assume the role OBJ played before his release.
While there will be no shortage of big-time weapons looking for new deals, the Browns will want to focus on the players who have the best chance of staying on the field in 2022.
Because of that, JuJu Smith-Schuster is not someone the team should prioritize signing. While he has been reliable in the slot for the Pittsburgh Steelers, he is coming off a significant shoulder injury that limited him to just five contests.
Prior to the ailment, Smith-Schuster had taken a clear backseat to Pittsburgh's up-and-coming wideouts. He contributed a meager 15 receptions on 28 targets for 129 yards and zero touchdowns.
It remains to be seen if the injury will have any lingering effects on the wideout's availability, but the Browns should be leery about trying to lure him away from their AFC North rivals.  
The team needs a sure thing for its No. 2 pass-catcher, and Smith-Schuster has too many question marks.
Dallas Cowboys: S Quandre Diggs
After a trying 2020 campaign, the Dallas Cowboys raised their game on the defensive side of the ball.
The improvement helped them get back into the playoffs, but there is still work to do for this to be a great defensive unit.
One spot that Dallas will want to shore up in free agency is the secondary. The safety position was particularly weak in 2021.
With the oft-injured Donovan Wilson the only safety under contract for 2022, the Cowboys will need to acquire several players this spring.
While a steady option like Quandre Diggs might be appealing, Dallas should try to splurge for a game-changing star the position.
Diggs has been a ball hawk during his time with the Seattle Seahawks, racking up 13 interceptions in two-plus seasons.
The Cowboys already led the league with 26 interceptions this year, however, and they could use a more impactful center fielder type who is younger and healthier than the 28-year-old Diggs.
Factor in the major leg/ankle injury that Diggs suffered in Seattle's season finale, and it would be much wiser to go after an up-and-coming safety like Cincinnati's Jessie Bates III, arguably the top free-agent-to-be at his position this year.    
Denver Broncos: QB Teddy Bridgewater
The Denver Broncos are on the cusp of contending but desperately need a quarterback who can help them reach their potential.
Teddy Bridgewater clearly isn't that guy, going 7-7 as a starter in his first year at Mile High after earning the job over incumbent Drew Lock.
The Broncos make the playoffs, finishing 7-10 and losing 10 of its last 14 games. 
Bridgewater recorded a middling 3,052 passing yards and 18 touchdowns against seven interceptions and was sacked 31 times.
He completed 66.9 percent of his passes but couldn't spark an offense that has playmakers such as Melvin Gordon III and Javonte Williams in the backfield and wideouts like Courtland Sutton and Jerry Jeudy.
After the disappointing display, Denver should have no qualms about letting Bridgewater walk.
Even if they can't secure a potential franchise quarterback through the draft—the team is picking ninth for the second straight year—or via trade, it would be wise to look elsewhere to find a stopgap solution for the 2022 campaign after Lock took L's on the final three contests of the season when filling in for an injured Bridgewater. 
Detroit Lions: WR Sammy Watkins
The Detroit Lions will continue their rebuild during the 2022 offseason following a 3-13-1 finish to the campaign.
While the team does have a few pieces to build around—rookies Penei Sewell and Amon-Ra St. Brown showed promise in 2021—it will need to spread its dollars around to field a remotely competitive roster. The Lions are projected to have $31.5 million in cap space.  
Because Detroit is far out of contention and lacking franchise players at key positions like quarterback, the front office must avoid wasting time with aging veterans this spring.
Instead of focusing on a player like Sammy Watkins—even if the 28-year-old comes cheap and fills a major need in the receiving corps—the Lions should bring in younger players who could maximize their potential on long-term deals.
Watkins just played for his third team in five years, putting up a career-worst 49 catches for 394 yards and one touchdown with the Ravens.
Watkins has little upside and is prone to injury, making it unlikely he'd still be around by the time Detroit is ready to turn the corner.
Wideouts like Marquez Valdes-Scantling and JuJu Smith-Schuster would be better fits for this rebuilding club and would likely cost less than $10 million per season on the open market.   
Green Bay Packers: WR Antonio Brown
The Packers only have three wideouts—Amari Rodgers, Randall Cobb and Juwann Winfree—under contract for 2022, making it a position of critical importance for the front office to address in free agency.
While retaining Davante Adams should be the top priority for the organization, bringing in more talent to keep Aaron Rodgers productive and happy in the twilight of his career would be extremely beneficial.
Although it may be tempting for the Packers to take a high-risk, high-reward gamble on Antonio Brown, the team would be making a mistake if it signed the wideout.